PROSPERITY
We believe in an economic system rooted in transparency, inclusion and community. Where prosperity is shared among all stakeholders, not only shareholders.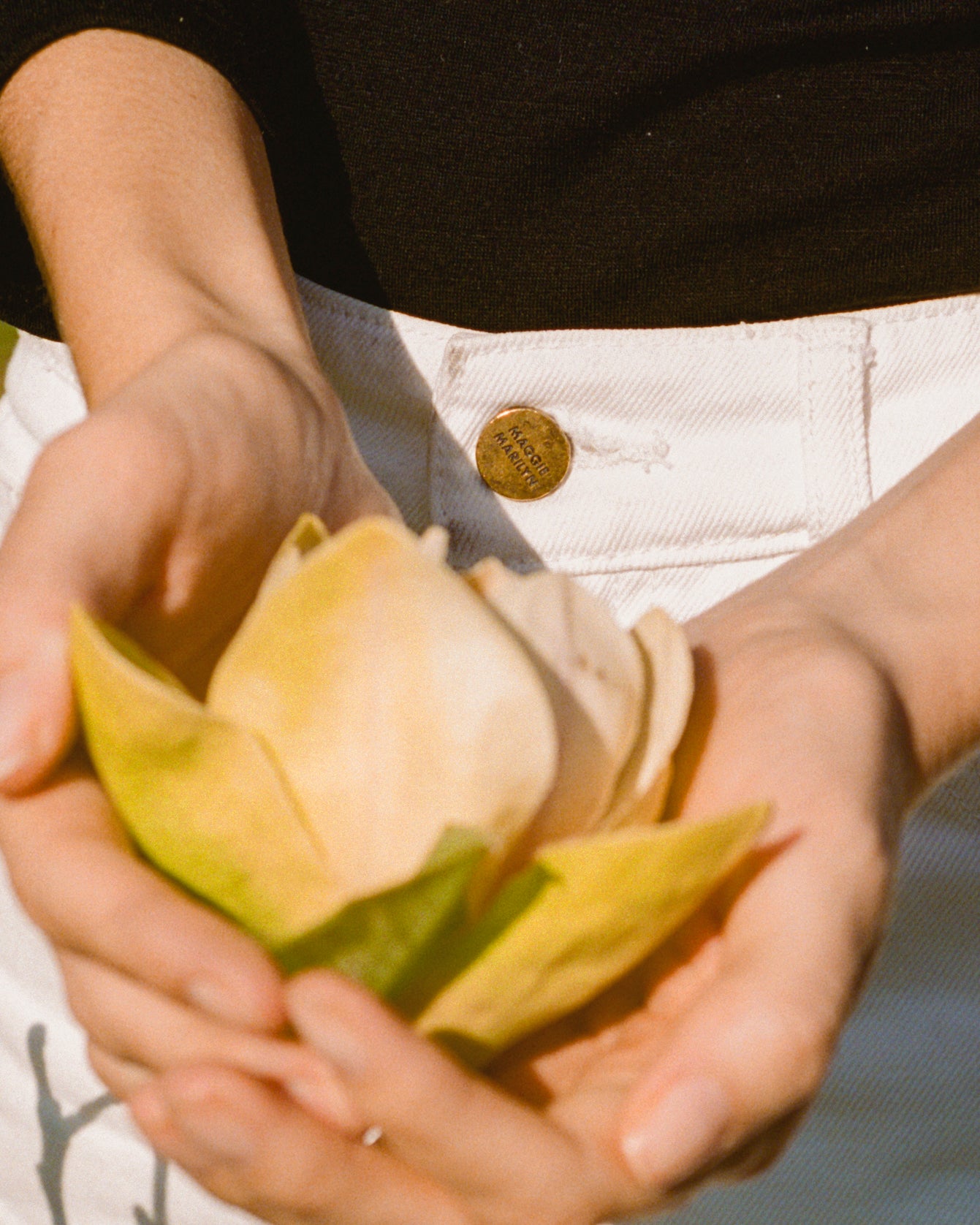 PROSPERITY
Approaching our seventh year in business, Maggie Marilyn reached a new milestone in 2022 when we received our B Corp certification, making Maggie Marilyn one of the highest-ranked fashion brands in the world for our social and environmental impact.
B Corporation is a world-renowned enterprise that acknowledges those using business as a force for good. Their rigorous process measures a business's impact across areas including governance, workers, community and the environment, and Maggie Marilyn's score of 109 is a vote of confidence in our unwavering commitment to People, Planet and Prosperity.
As a team, we're honoured to be recognized for our mission to Create a Better World and redefine what a successful fashion formula looks like. These are the roots of our brand, and the onus is on all of us to uphold these commitments to you - our stakeholders - every single day.
But what excites us most is that, as a business who intends on being here 100 years from now, this score now lays the foundation for the kind of social and environmental impact we hope to have.
Our clothes are the by-product of a greater mission - one that aims to cultivate a community of changemakers with the shared vision of Creating a Better World. And we believe we can best build that community by nurturing those relationships in-person.
That's why, whether through the Homes we open, the pop-ups we curate or the community events we host, Maggie Marilyn will always strive to be a conduit for connection.
Our community events, which began as intimate gatherings in our Newmarket workroom and now take place inside our Homes around the world, are particularly special to us. They're a space where our community can connect with each other offline, hear from inspiring people from other industries, as well as from those who can offer new perspectives for how to use business as a force for good. They're a time for us to learn from each other, exchange stories, connect with old friends and make new ones.
Maggie Marilyn is proud to partner with charities and social enterprises for our community events, and donate all ticket sales from events to these incredible organisations. To date, we've supported the work of Pillars, Trees For Survival, Dress For Success and Sweet Charity - and as Maggie Marilyn's global community grows, so too will our capacity to support charities and social enterprises around the world.
And lastly, our retail Homes have always been an important part of Maggie Marilyn's DNA because we've seen what happens when a person sees it as their divine duty to belong - to participate in the neighbourhoods that build communities that build quiet revolutions; the likes of which might just change the world.
So thank you for being a part of ours.
Our First Impact Report not only proves that our decision to pivot the business was the right one in terms of fulfilling our original vision, but that it also serves as critical evidence for how a business like ours can continue to thrive and prosper in the future.
So put on the kettle, make yourself a cup of tea, and dive into the Maggie Marilyn Ripoata ō nga Kawekawenga Impact Report 2021.
Our Second Sustainability Strategy outlines our ambitions for the next two years as well as the roots we intend to put in place around circularity and regeneration.
We are constantly learning but we are here to do things differently and we hope that you will join us.
As a young fashion brand on a mission to transform the fashion industry to one that is transparent, circular, regenerative and inclusive, every day we are tasked with making complex decisions - and deciding which farms to source our raw natural fibres from is something we find particularly challenging.
That's where regenerative agriculture comes in.
Regenerative agriculture represents a future of farming built on reciprocity, but its definition is still something many struggle to agree upon. We sat down with a selection of farmers, industry bodies, scientists and private entities to see where we could find common ground and, in doing so, rethink the role we might play in regenerating the planet.
In our continued commitment to transparency and accountability at Maggie Marilyn we are excited to share with you our 2022 Sustainability Progress Report.
Maggie Marilyn is proudly B Corp Certified.
B Corporation is a globally-recognized certification that acknowledges leaders in the global movement towards an inclusive, equitable and regenerative economy. In other words: Those using business as a force for good.
B Corp's rigorous process measures a business's entire social and environmental impact across areas including Governance, Workers, Community, Environment and Customers.
Our B Corp status is a vote of confidence in our unwavering commitment to People, Planet and Prosperity, but that doesn't mean our work is finished.
As a business who intends on being here 100 years from now, this score now lays the foundation for the kind of social and environmental impact we intend to have.